Met Gala 2018: Holy Mother Of God, Priyanka Chopra?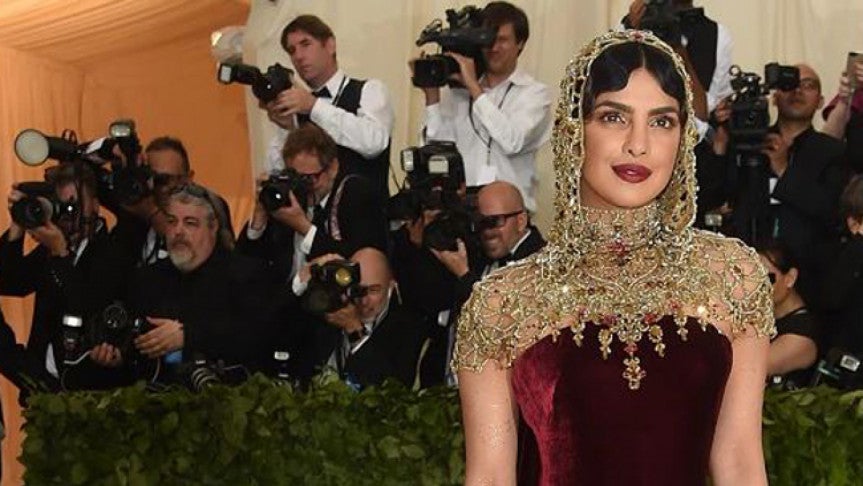 And here we are - the moment that many of us were waiting for - Priyanka Chopra's walked the red carpet at the Met Gala 2018.
She is shiny, starry, and pretty pious looking. Wondering why? Well, you can hurriedly scroll down and find out yourself.
The Met Gala is themed 'Heavenly Bodies: Fashion and the Catholic Imagination' this year, and some really wondrous outfits have already graced the red carpet. Rihanna is dressed like a Pope for crying out loud! But our home girls have made us proud.

While Deepika Padukone stunned us with her cardinal red Prabal Gurung gown, Priyanka Chopra wowed us in a custom Ralph Lauren creation, reports NDTV.
The attire is completely handcrafted, with Swarovski crystals, detailed bead work, and embroidery. That alone is some heavenly work. It is exquisite, really, that hood.
But Priyanka wearing it in a very Mother Mary fashion is what is making us want to stand and applaud. Styled by Cristina Ehrlich, Priyanka's wine red dress in velvet, the train, the plastered down hair, and bold lips give her a very gentle look, but stylishly so.
In fact, in many paintings and iconography, Mother Mary wears a dark red cloak. But that's just our imagination running wild. Maybe the inspiration was drawn from the High Priestesses. But that won't be very Catholic now would it?
Some very interesting looks came in at the Gala. But Deepika Padukone and Priyanka Chopra stayed true to style and classiness without even a tiny hint of going OTT. And that is quite commendable, don't you think?