Ranbir Kapoor and Karishma Tanna's sensuous number will set temperatures soaring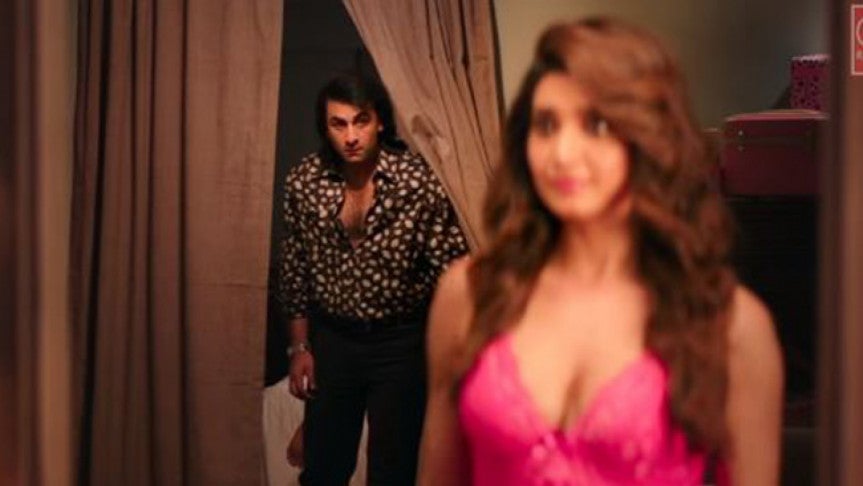 Ranbir Kapoor's Sanju has turned out to be the biggest film of this year. The movie is all set to enter the Rs 300 crore club today. Well, seems like the perfect timing to release a new song from the movie. The movie based on controversial star Sanjay Dutt's life unravels many chapters of his life on screen. One of which is the time he slept with his best friends girlfriend. The lead up to the incident is narrated through a song in the film. Titled, Mujhe Chand Pe Le Chalo, the song features Karishma Tanna playing the girlfriend. It is the sultry-most song of the year, that you might just want to listen to on loop, reports the BollywoodLife.com.
Mujhe Chand Pe Le Chalo is the second song composed by Academy Award winner AR Rahman after Ruby Ruby for Sanju. Though in the movie, we only get to listen to a very brief version of the song, that too, working as a background score. Makers have released the very snippet from the movie on YouTube. Irshaad Kamil's lyrics have been crooned by Nikhita Gandhi for the sensuous number. The singer has done a wonderful job to create that sultriness for the situational song. Karishma Tanna's look or Nikhita Gandhi's voice; we can't decide what's more sensuous here!
Although the video has been released now, the full audio version of the song has been available for streaming for a long time now. If you like what you hear in the video, we strongly recommend that you listen to the full version, because it is even better.
BollywoodLife's Editor-in-Chief, Tushar Joshi, watched Sanju and wrote in his review, 'Sanju is undoubtedly Ranbir Kapoor's career-best performance and will fetch him all the awards and recognition. Don't go looking for a fair and accurate depiction of Dutt's life and you won't be disappointed. Watch it for the sheer entertainment it provides and the unmatched versatility of Ranbir Kapoor.'