89th Academy Awards
Emma Stone wins best actress Oscar for 'La La Land'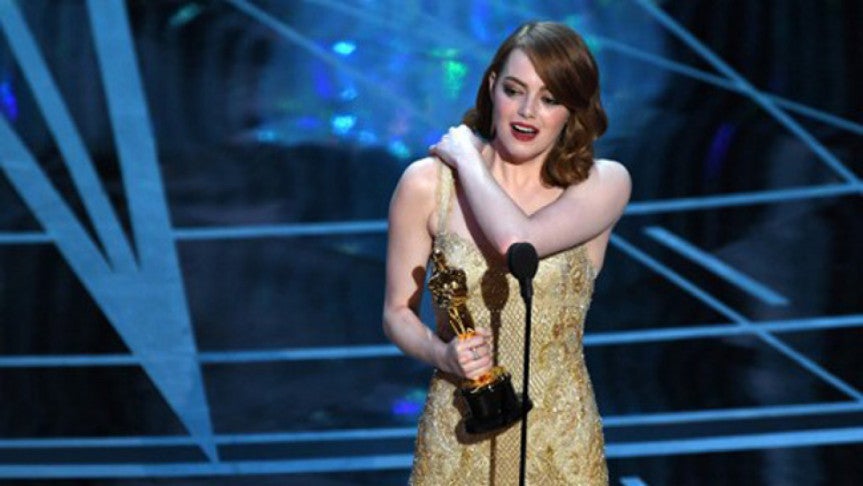 Hollywood, US: Emma Stone won the Oscar for best actress on Sunday for the whimsical musical 'La La Land,' the most honored film of the night.
Her best actress prize was probably the least surprising victory of a glittering night for Damien Chazelle's nostalgic musical, as the 28-year-old also picked up trophies at the Golden Globes, British BAFTAs and Screen Actors Guild Awards. 
'To the women in this category... you were all so extraordinary and I look up to you and I admire you more than I can put into words.,' said Stone of fellow nominees Isabelle Huppert, Natalie Portman, Ruth Negga and Meryl Streep.
'La La Land' casts Stone as a wannabe movie star who falls in love with a struggling musician played by Ryan Gosling, who was a losing nominee in the best actor category.
The movie pays tribute to classic musicals, with nods to scenes from 'Singing in the Rain' (1952) and 'Grease' (1978) as well as old-school favorites like 'Bringing Up Baby' (1938) and 'Top Hat' (1935).
Stone's Mia is a wide-eyed romantic who goes from audition to audition in her quest to make it big while Gosling is Sebastian, a jazz pianist with a mission to save the medium who struggles to pay his bills.
The pair meet in one of LA's famous traffic jams and then at a celebrity party before wooing each other in dreamy dancing sequences reminiscent of those performed by legendary screen partners Fred Astaire and Ginger Rogers.
The pair first appeared together in 'Crazy, Stupid, Love' (2011) and then again in 'Gangster Squad' (2013), and were described as a modern-day 'Fred and Ginger' as they sunk their hands and feet into the cement at the TCL Chinese Theatre in December, a longstanding honor for Hollywood's biggest stars.
Born Emily Jean Stone in Scottsdale, Arizona to a homemaker mother and businessman father, Stone began acting in youth theater in Phoenix.
At the age of just 14, she made a PowerPoint presentation entitled 'Project Hollywood' to persuade her parents to allow her to drop out of school and pursue a movie career.
The pitch worked and she and her mother moved to LA, where Stone was home-schooled between auditions.
'It's nuts that they agreed to it,' Stone told The Hollywood Reporter. 'I don't condone it. Everybody should go through high school and graduate.'
Her first role came with the part of Laurie Partridge in the VH1 talent/reality show 'In Search of the Partridge Family.'
She has appeared in more than 20 movies since her 2007 debut in 'Superbad' but really came to the fore as a major talent in 'The Help,' Tate Taylor's 2011 drama about the racism faced by black maids in 1960s Mississippi.
A string of hit films followed, including two 'Spider-Man' movies and Alejandro Gonzalez Inarritu's 'Birdman,' which earned Stone a best supporting actress nomination.