No specific solution except some good words, says Dr Kamal about dialogue with PM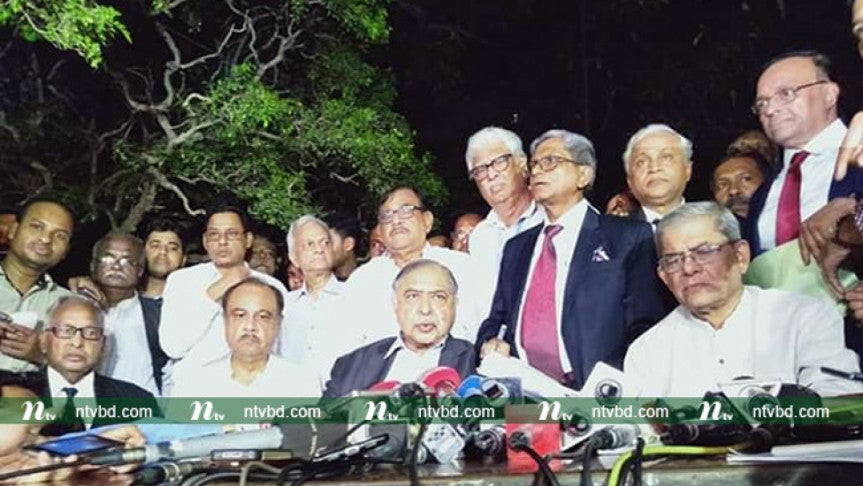 Dhaka: Jatiya Oikyafront convener Dr Kamal Hossain on Thursday night said they placed their seven-point demand before Prime Minister Sheikh Hasina but did not find any specific solution except some good words about rallies and meetings.
 'The Prime Minister delivered a long speech, but we didn't find any specific solution there. However, she uttered some good words about rallies and meetings,' he said, reports the UNB.
Dr Kamal was talking to reporters at his Bailey Road residence after Jatiya Oikyafront's meeting with the Awami League-led 14-party alliance at Ganobhaban.
 He said they conveyed their demands and stance and she came to know about those. 'She'll inform her final decision later.'
Dr Kamal, also the Gono Forum President, said Oikyafront leaders placed their demands, concerns and complaints at the dialogue.
About the release of Khaleda Zia, BNP Secretary General Mirza Fakhrul Islam Alamgir said they raised the issue, but the Prime Minister did not say anything specific in this regard. 'She said discussion could be held further in the future in this regard.'
Asked whether they were happy with the talks, he replied in the negative.
He also said they urged the Prime Minister not to announce the election schedule until talks with the political parties end, but she said it is the authority of the Election Commission.
 While talking to reporters after emerging from the meeting, the BNP Secretary General said their party is not happy over the talks with the Prime Minister Sheikh Hasina-led 14-party alliance. 'There were discussions on various issues. The Prime Minister said they will sit again. I, on behalf of my party, can say we're not happy with today's discussions.'
 Asked about the outcome of the dialogue, Fakhrul said everything is not achieved at one go. 'These are achieved gradually.'
While reading out a written statement, Gono Forum Executive President Advocate Subrata Chowdhury said they held discussions with the Prime Minister for about three-and-half hours.
He said Dr Kamal Hossain gave the introductory speech at the dialogue as the top leader of the Jatiya Oikyfront and later Fakhurl presented Oikyfront's seven-point demand.
Subrata said other leaders of the Jatiya Oikyafront also talked about various issues.
Citing the Prime Minister, he said there will be no restriction on holding any rally. Political parties can hold rallies wherever they want, and law enforcers will cooperate with them. 'The Prime Minister said she has already directed the law enforcers in this regard.'
He said Oikyafront leaders raised the issue of fictitious cases filed against political leaders and activists and their mass arrest.
In reply, the Prime Minister sought the list of such cases and assured them of looking into that. 'We'll look into that so that no one is harassed,' he quoted Sheikh Hasina as saying.
The Prime Minister also said talks on the issues placed will continue, said the Gono Forum leader.
About the dissolution of parliament, Oikyfront leader ASM Abdur Rob said they placed their seven-point demand before the government. 'It's now upto the government whether it'll accept those nor not.'
Talking to UNB, JSD general secretary Abdul Malek said they did not attend any formal dinner during the dialogue.
 However, they were served with food like juice, chips, peanut, soup, fried chicken, rice and vegetables, he said.
Most of the Oikyafront leaders did not take rice, Malek said, adding that took slight snacks.
The high-profile dialogue between the Awami League-led 14-praty alliance and Dr Kamal Hossain-led Jatiya Oikyafront, including BNP, began at Prime Minister's official residence Ganobhaban around 7pm and ended around 10:30pm.
Awami League President and Prime Minister Sheikh Hasina led a 23-member 14-party delegation while Gono Forum President Dr Kamal Hossain a 20-member Jatiya Oikyafront team in the discussion.
The other Oikyafront delegation members were BNP secretary general Mirza Fakhrul Islam Alamgir, standing committee members Khandaker Mosharraf Hossain, Moudud Ahmed, Jamiruddin Sircar, Mirza Abbas, JSD president ASM Abdur Rob, vice president Tania Rob, general secretary Abdul Malek Ratan, Nagorik Oikya's Mahmudur Rahman Manna and SM Akarm,  Gono Forum general secretary Mostafa Mohsin Montu, executive president Subrata Chowdhury, Jatiya Oiky Prokriya's Sultan Mohammad Mansur Ahmed, ABM Mostafa Amin, Gonoshasthya Kendra founder Dr Zafrullah Chowdhury, BNP standing committee members Dr Abdul Moyeem Khan, Gano Forum leaders Mokabbir Khan, Jaglul Haider Afrik and AHM Shafiq Ullah.