Dr Kamal's motorcade comes under attack at Mirpur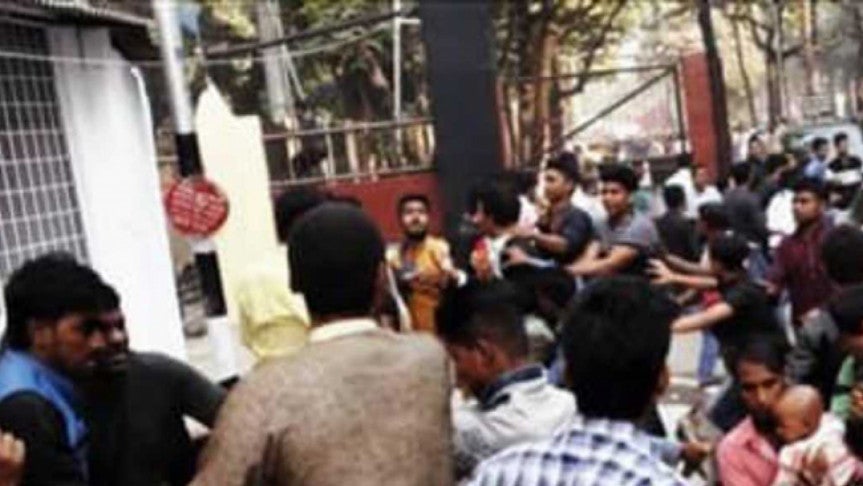 Dhaka: Jatiya Oikyafront chief Dr Kamal Hossain's motorcade came under attack near Martyred Intellectuals Memorial at Mirpur while returning after paying tributes there on Friday morning, leaving at least 10 people injured.
However, Dr Kamal managed to escape the attack unhurt, reports the UNB.
Latiful Bari Hamim, media wing member of Jatiya Oikyafront, said Dr Kamal along with Jatiya Samajtantrik Dal (JSD) president ASM Abdur Rob, Gonoshasthya Kendra founder Dr Zafrullah Chowdhury, BNP chairperson's adviser Abdus Salam, Gano Forum leaders Jaglul Haider Afrik and Reza Kibria paid homage to the martyred intellectuals at Mirpur Martyred Intellectuals Memorial around 9:30pm.
Some supporters of local Awami League candidate for Dhaka-14 seat Aslamul Haque equipped with rods and sticks attacked Kamal Hossain's car when he was getting in it at the main gate of the Memorial on his way back home, Hamim said.
He said the ruling party men also attacked the vehicles carrying ASM Abdur Rob, Jaglul Haider Afrik, Oikyafront's Dhaka-14 candidate Abu Bakar Siddique Saju.
The attackers beat BNP and Oikyafront leaders and activists those who tried to resist them, leaving 10-12 people, including Saju and Rob's driver, injured.
The driver was taken to a local hospital.
Dr Kamal Hossain will hold a press a conference on the attack at Oikyafront's Purana Paltan office at 3:00pm today.
Eelier, talking to reporters, Dr Kamal said they are working to establish a good society free from exploitation and make the independence meaningful.
He said the country must be freed from the grasp of those who are working against the spirit of the Liberation War and indulging in plundering.
Kamal, however, lost his temper as a journalist asked him about his position about Jamaat, and said, 'How much money have you got for asking such questions? Remember the martyred as you some here (on the martyred Intellectuals Day).'