With Syria escalation, Obama may win leverage on and off battlefield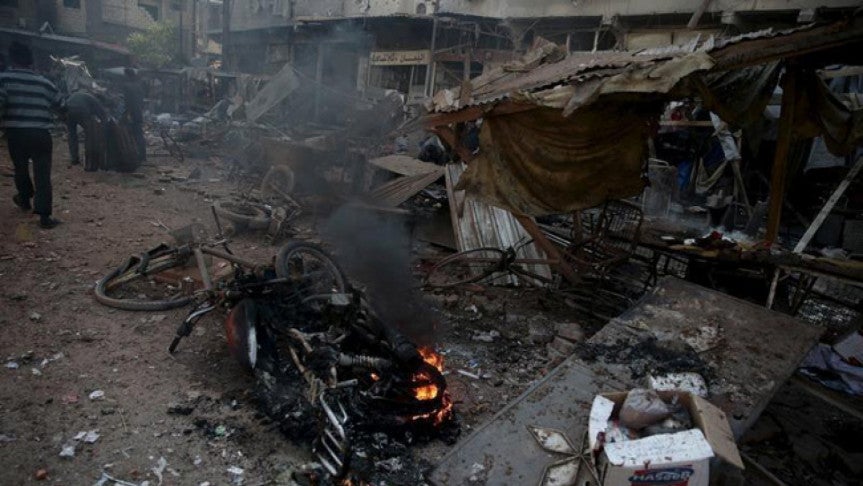 Washington: The United States President Barack Obama's decision to send special operations forces to Syria is a calculated military escalation that could increase US leverage, both on and off the battlefield, say current and former US officials.
The policy shift coincides with an expanding clandestine CIA program that channels weapons to opponents of Syrian President Bashar al-Assad and a new diplomatic push led by Secretary of State John Kerry to find a political solution to the conflict.
The addition of up to 50 US troops alone may not be enough to fundamentally change Syria's increasingly messy civil conflict. They are relatively tiny in number and will only be in an advisory and assistance role, leaving the United States still depending heavily on rebel allies who have not always proven reliable.
But it could help to blunt Middle East perceptions of US timidity in the wake of embarrassments for the Obama administration that have also fed domestic criticism of his foreign policy.
Those include the collapse of a half-billion-dollar Pentagon program to train and equip Syrian fighters, and the unexpectedly rapid military intervention in Syria by Russian President Vladimir Putin in support of Assad. US government sources said Russia now has several thousand troops in the country backed by aircraft and armour.
The deployment of the military advisors announced on Friday upended a year-old strategy hinged on supporting Syrian opposition fighters battling Islamic State (ISIL) without putting American 'boots on the ground.'
'It's definitely meant to send a message that we're upping the game inside Syria, that we're absolutely serious about going after ISIL and that we're not going to be dissuaded by any efforts to prop up Assad,' said an Obama administration official, speaking on condition of anonymity.
The strategy change also includes positioning more US jets in Turkey to expand American air strikes as Syrian Kurds, Arabs and other opposition fighters prepare to push toward the city of Raqqa, the Islamic State's defacto capital in Syria.
Fred Hof, a former State Department envoy on Syria, said the US deployment of a handful of forces alone was more of a Band-Aid than a game-changer. But it could open doors.
'By putting some 'skin in the game' on the ground in Syria, Washington may be able to make a credible pitch to regional powers to provide the ground combat components that can sweep ISIS from Syria,' Hof said, using another common acronym for Islamic State.
CIA effort cautiously expands
Obama has vowed not to turn Syria into a proxy war with Russia, whose sudden ramping up of its military support for Assad caught Washington by surprise.
But the Central Intelligence Agency, in collaboration with Saudi Arabia and Qatar, recently broadened the number of groups to which it is clandestinely delivers weapons including TOW anti-tank missiles, one source familiar with the support operation said.
Another source said a significant new shipment of TOWs had been delivered in October to what the United States believes are relatively moderate Sunni rebels based in northwest Syria who are fighting Russian-backed Syrian government forces.
These sources said that rebels equipped with TOWs are continuing to keep Assad's forces in check despite Russia's air bombardments and the bolstering of Assad's ground forces by Russian advisors and Iranian militiamen.
The US sources said deliveries of TOW missiles are tightly controlled by the CIA and its allies in the region to insure that they only go to rebels who know how to use them and are not militant jihadists.
However, they acknowledged that at least a limited number of TOWs have ended up with jihadists. They said US officials had no plans to supply any kind of surface-to-air missiles, known as MANPADs, to Syrian rebels,
'While it is understandable for the opposition to want to strike directly against the Russians, proliferation of MANPADS into an area with a large terrorist presence is beyond dangerous,' one intelligence official added, referring to shoulder-fired heat-seeking missile weapons.
US officials want to avoid at all costs allowing such weapons, such as the Stinger missiles provided to the anti-Soviet mujahideen in Afghanistan during the 1980s, from falling into the hands of anti-US fighters who might use then against commercial aircraft or other western targets.
Building momentum
The United States unveiled the decision to send US special operations forces to Syria on the same day as 17 countries, the European Union and the United Nations called for a nationwide truce in Syria's civil war at talks in Vienna.
The talks were attended for the first time since the conflict began in 2011 by Assad's ally Iran.
Kerry, who was in Vienna, described the timing of the US military announcement as a coincidence.
Several US officials, speaking to Reuters on condition of anonymity, said the military moves were not designed to increase diplomatic leverage in those negotiations. But one official acknowledged it added to a building sense of momentum in Syria.
'There's a sense of momentum ... Things are beginning to ripen for people to make different choices than they've been making,' the Obama administration official said, without commenting on the CIA programme.
'The addition of (special operations forces) trainers may contribute to that. We hope so. But that's not the reason we're doing it.'
Another US official said that the administration hoped that the military push to defeat Islamic State and the effort to find a diplomatic solution to end Assad's rule would over time be 'mutually reinforcing.'
Derek Chollet, who was an assistant secretary of defense under the Obama administration, said the US decision to send special operations forces and boost the US air posture would 'give us leverage for the diplomatic track.'
It could also set up momentum for Obama's visit to Turkey in November, where he will attend the G20 summit along with Putin.
'With these coordinated steps, we're seeing a political-military strategy take shape,' Chollet, now a senior adviser at the German Marshall Fund, said. Chollet did not comment on questions about the CIA program in Syria.