PM's visit to India: Needed a Hasina-Modi visit for sub-regional cooperation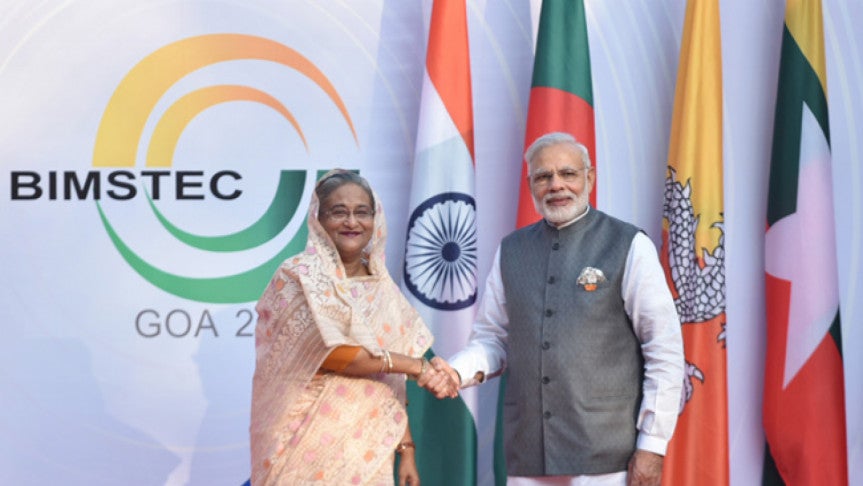 Bangladesh is India's most vital and empathetic neighbour and this is symbolized in the decision by Dhaka to posthumously honour 1,661 Indian soldiers for their contribution and sacrifice in the blood-soaked birth of its nation in December 1971. This rare honour by a visiting leader will be conferred by the Bangladesh Prime Minister Sheikh Hasina during her visit to New Delhi from April 8-10.
I would make the case that this summit level visit is the most critical for Prime Minister Narendra Modi for a number of reasons that have a historical resonance as Delhi prepares for the 70th anniversary of India's independence and the bloody partition of the subcontinent in August.
The Hasina visit would also be the first summit-level meeting for Modi after the spectacular electoral victory that he single-handedly delivered to the BJP, particularly in India's most populous state of Uttar Pradesh
The high-octane triumph of Hindu majoritarianism was also reflected in the manner that the Chief Minister of UP was chosen and it will be instructive for India's external interlocutors to monitor how electoral triumphalism will play out in foreign policy.
The run-up to the 70th anniversary of August 1947 is embedded in the manner in which India's two principal neighbors — Pakistan and Bangladesh — relate to the historical narrative. While Pakistan observes March 23, 1940 as the day of the Lahore resolution that envisioned a nation based exclusively on religion — in this case the Islamic faith — the very birth of Bangladesh in 1971 and its trajectory of the last 45 years negates the two-nation theory that led to the partition of August 1947. The Pakistan Army is yet to accept the mea culpa of having killed almost three million of its own citizens during 1970-71 in the most tragic yet forgotten chapters of 20th century history.
Bangladesh, under Prime Minister Hasina, has adopted March 25 as Genocide Day and will urge the United Nations to declare this day as World Genocide Day. What is relevant is the profile and orientation of Pakistan and Bangladesh — the former slipping further into religious bigotry and sectarian violence even as Hasina has steered her relatively young nation towards enviable progress and tolerance within the extended Islamic world.
It may be recalled that even before he assumed office as Prime Minister, Modi had embarked on innovative diplomacy and invited all the regional leaders for his swearing-in ceremony in May 2014. There was considerable optimism that India's neighbourhood policy would be one of amity and tangible cooperation but, barring Bangladesh, there is little that can be held up as a triumph or breakthrough for the Modi-led foreign policy.
Dhaka is the exception. An objective review would indicate that while Pakistan remains India's most visible and intractable security and strategic challenge; and China the more abiding and complex, it is Bangladesh that represents the neighbour with whom India can demonstrate its positive intent and showcase the incentive for investing in the long term cooperative endeavour.
Like most major Muslim nations, Bangladesh (population 164 million) is also grappling with the post 9/11 Islamist fervor and its more virulent Wahabbi-Salafi variant. India's worst-case security scenario would be a neighbourhood on its eastern flank that corresponds with the Pakistan-Afghanistan violence and Islamist ideology.
Hasina has demonstrated commendable political courage and conviction in her commitment to the secular principle and one may conjecture that she is determined that her nation should not go down the Pakistan path. Yet there are deeply entrenched forces of obscurantism and religious bigotry and the more recent killing of liberals in the name of Islam is illustrative.
Hasina is seeking to maximise her nation's foreign policy options and here, the relationship with China is distinctive — both for Bangladesh and India. While it is evident that the Sino-Pak relationship is unlikely to alter its core anti-India orientation, the China-Bangladesh relationship should not be allowed to acquire an adversarial or prickly texture vis-à-vis India. This will be the critical challenge for Modi when he receives Hasina.
Beijing has already acquired a substantive footprint as a major military supplier in the Indian neighbourhood and Chinese built submarines in the Bangladesh navy is a tactical reality that India will have to factor in. But the deeper challenge for India is to nurture the Bay of Bengal region into a domain where India and its neighbours can cooperate and if Beijing wishes to be part of this sub-regional effort then Modi should make some bold and innovative investments.
The most viable is to resurrect the dormant BIMSTEC initiative that brings together Bangladesh, India, Myanmar, Sri Lanka and Thailand and impart traction into this sub-regional entity. Modi has outlined his vision of SAGAR (security and growth for all in the region) in the past and this came up at the BRICS (Brazil, India, China, Russia, South Africa) Summit in Goa last October where Hasina was a special invitee.
The April 8 summit is an opportune moment for India and Bangladesh to bilaterally implement many of the suggestions that are already in the pipeline and identify the low-hanging fruit. My personal wish-list would be to prioritizes the connectivity from the Indian east coast (Odisha/Andhra) through Bangladesh ports to Agartala in the Indian northeast and beyond. The Hasina-Modi vision could also enable Dhaka to outline a common sub-regional blueprint that will maximize the collective advantages that can accrue from investing in the 'Blue Economy' — that related to the ocean.
*C Uday Bhaskar is Director, Society for Policy Studies. The views expressed are personal.