Counting on after voting, waiting for result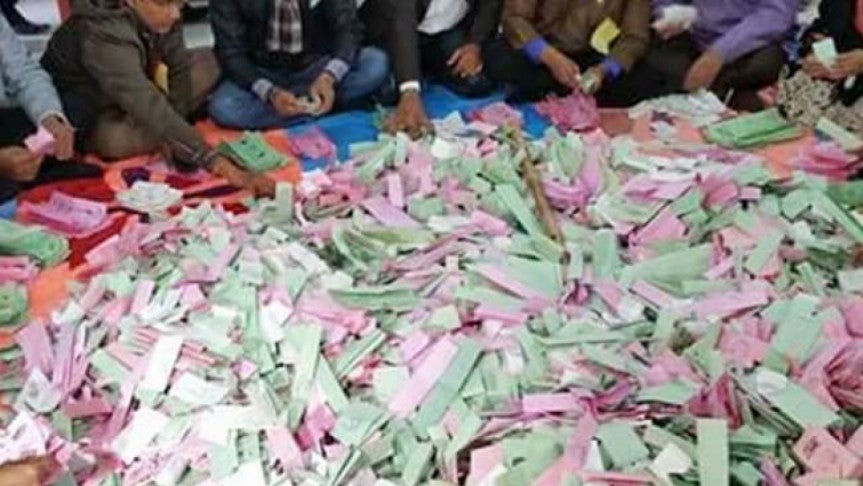 Dhaka: Voting in the 11th national election concluded at 4 pm on Sunday amid allegations of irregularities, including overnight stuffing of ballot boxes and capturing of polling stations, and sporadic violence in different parts of the country, leaving 13 people dead, reports the UNB.
The voting in the capital was almost peaceful as reported by UNB reporters.
Violence 
In Noakhali, Nurun Nabi, an Ansar member, was shot dead by some miscreants at Tulachara Primary School polling station of Noakhali-3 constituency, said presiding officer Prof Dr Suchon Chowdhury.
In Chattogram, Ahmed Kabir, 45, an activist of Jatiya Party, was killed in a clash between Awami League and Jatiya Party activists in Banskhali upazila early in the morning.
In Rangamati, Bashir Uddin, general secretary of Kashkhali union Jubo League unit, was killed in an attack allegedly by some BNP activists at Kashkhali union in Kaukhali upazila in the morning.
In Cumilla, Bachchu Mia, 35, a resident of Sundial village in Nangalkot upazila, was killed in a clash between the supporters of AL and BNP in the morning, said district police special branch sub-inspector Mahbub Morshed. 
Besides, a rickshaw-puller, Muzibur Rahman, 35, son of Sujat Ali of Muradnagar village of the upazila, was killed in a clash between ruling Awami League and BNP men at Paschim Belashwar village in Chandian upazila.
In Rajshahi, Merajul Islam, 30, son of late Abdus Sattar and an Awami League supporter, was killed in a clash between BNP and AL men in Pakuria Government High School centre in Jahanabad union of Mohanpur upazila around 11am over capturing a polling centre of Rajshahi-3 constituency, said Rajshahi district police superintendent Shahidullah.
Besides, Modasser Ali, 40, organising secretary of Awami League No-8 ward in Panchandar union of Tanore upazila, was killed in a clash between BNP and Awami League men over capturing Mohammadpur High School polling station of Rajshahi-1 constituency, said officer-in-charge Rezaul Islam of Tanore Police Station.
In Tangail, police recovered the body of BNP ward unit president Abdul Aziz, 65, who remained missing since Saturday from Nagda Shimla area in Gopalpur upazila.
In Natore, Hussain Ali, an Awami League supporter, was stabbed to death by his nephew Ratan Fakir following an altercation over casting vote at Samskholsi village in Naldanga upazila.
In Narsingdi, Milon Miah, 35, an Awami League polling agent, was hacked and slaughtered allegedly by supporters of opposition (independent) candidate at Kundarpara Primary School centre of Shibpur of Narsingdi-3 constituency around 12:30 am, said Abul Kalam Azad, officer-in-charge of Shibpur Police Station.
In Bogura, Awami League activist Azizul Islam, 30, was killed and five others were injured in a clash between AL and BNP activists at Bagil polling station in Kahalu upazila around 11:3am over capturing polling station, said Paikor Union Parishad Chairman Mitu Chowdhury.
In Brahmanbaria, Israil, 19, son of Sayedul Islam of Rajghar village in Sadar upazila, was shot dead and three others suffered bullet wounds 'in police firing' during a clash between supporters of AL and BNP at Rajghar Government Primary School polling centre of Brahmanbaria-3 constituency.
In Cox's Bazar, Abdullah Al Faruque, 25, son of Abul Kalam of Rajakhali union in Pekua upazila, was killed in a clash between BNP and AL men in Rajakhali Government Primary School polling station of Cox's Bazar-1 constituency around 10am, said Tanzir Hossain, officer-in-charge Pekua Police Station.
Voting was suspended at Sharifpur Primary School centre of Begumganj upazila under Noakhali-3 constituency and Nawabpur Government Primary School centre under Noakhali-1 in the early morning as miscreants snatched ballots and election materials from there. 
In Satkhira, four people were injured in a clash between BNP and Awami League supporters in Dhalbaria polling station in Satkhira-2 constituency in Sadar upazila around 10am.
In the capital, BNP candidate for Dhaka-4 constituency Md Salahuddin Ahmed was hacked allegedly by ruling party activists when he went to cast his vote at Shyampur Model High School voting centre in the morning.
Meanwhile, 22 Jatiya Oikyafront candidates and one independent contestant have announced to boycott the election, citing various irregularities, including voterigging and capturing of polling stations by ruling party men.
They made the announcement halfway through as they alleged that ruling party men captured polling stations, rigged votes and barred voters from casting votes in their constituencies.
Situation in Capital
Visiting polling centres at Siddheswari Girls' High School (both male and female), Shantinagar Ideal School (female), Little Master School (male) and Green Hill Tutorial (female) from 8am to 9:30am, a UNB correspondent found that a peaceful environment was prevailing as voters were casting votes with much enthusiasm.
Grand Alliance candidate Rashed Khan Menon, BNP candidate Mirza Abbas and Md Eunus Ali Akando of Jatiya Party are contesting the election from the Dhaka-8 parliamentary seat.
However, no Jatiya Oikyafront supporters were seen around these polling centres though few supporters of the JaPa candidate were seen. Female voters' presence was remarkable until 9:30am.
'I'm so happy to cast my vote without any fear. I hope this peaceful environment will prevail till the end,' Nishat Tasnuva, a first-time voter, told UNB after casting her vote at Shantinagar Ideal Scholl centre.
The presence of voters inside and outside the Siddheswari Girls' High School centre was much higher. 'You see a very peaceful environment is prevailing here,' a police official told UNB adding, 'See, voters are casting votes and their kids are playing here (kids playing corner).
The presence of voters at Mirza Abbas Mohila Degree College in the city's Shahjahanpur area was huge. A few voters said they faced difficulties in finding out their exact polling booths to cast their votes due to the absence of representatives of candidates who were supposed to guide the voters.
'You see the enthusiasm among the voters. We're making sure that everyone can cast vote smoothly,' presiding officer Tuhinul Islam told UNB at Mirza Abbas Mohila Degree College centre, adding that the vote casting is relatively faster here due to the presence of increased booths.  
Presiding officer at Mahbub Ali Institute in Shahjahanpur Ashiqul Islam told UNB that some 35 percent votes were cast by 12pm. 'Law enforcement agencies are very active. I hope this peaceful environment will remain until the end of voting.'
Zainul Kabir, presiding officer at Siddheswari Boys' Higher Secondary School centre in the city, told UNB that they did not receive any complaint from anybody and voters cast their votes with much enthusiasm.    
Visiting MDC Model Institute in Mirpur, the UNB correspondent found that there was no agent of BNP in the polling centre.
When a BNP agent tried to enter the polling station, Awami League supporters chased him. As the BNP agent took shelter in a club of Agrani Kalyan Samiti, the AL supporters beat him up.
The AL men also snatched a mobile phone of a reporter as he took photo of the incident, said witnesses.
Visiting Rampura area, a UNB correspondent found that the polling was being held in a peaceful manner without hassle in different centres. 
At Ekramunnesa Degree College centre which is an all-female one, voter presence was satisfactory, said Ahsan Ullah, presiding officer of the centre.
'Around 300-400 votes have been cast here since morning,' he said. 
Iqra Bangladesh School and College, another nearby centre, saw voter turnout of above 20 percent in the morning. 
Anisur Rahman, presiding officer of the centre, said, 'Overall voting has been peaceful so far, I pray for remaining till the end.' 
South Point School and College had an impressive turnout since morning similar to previous centres. 
Where top leaders cast vote
Awami League President and Prime Minister Sheikh Hasina cast vote at Dhaka City College centre in the capital at 8 am, while Awami League general secretary Obaidul Quader cast his vote at Udayan Kindergarten centre in Basurhat municipality under Noakhali-5 constituency at 8:50 am.
Jatiya Oikyafront chief Dr Kamal Hossain cast vote at Viqarunnisa Noon School and College centre in the capital around 8:56am and BNP general secretary Mirza Fakhrul Islam Alamgir cast his vote at the Thakurgaon Government Girls' School around 8:30 am.